Parents and carers are encouraged to get their children vaccinated
Children aged between 5-11 are now eligible to receive the COVID-19 vaccine at vaccination sites across Norfolk and Waveney, and health leaders are encouraging all parents and carers to bring their children to a vaccination centre as soon as they can.
Children and young people remain at risk of catching COVID-19, as well as transmitting it to other friends and family members who may be vulnerable to more serious illness. Getting vaccinated can prevent the worst effects of COVID-19 and reduce the risk of infection in children and those around them.
Vaccines remain our best defence against serious illness and hospitalisation from COVID-19. Research has shown the vaccines help:
reduce your risk of getting seriously ill or dying from COVID-19
reduce your risk of catching or spreading COVID-19
protect against COVID-19 variants
All children aged 5-11 are now able to attend any of the large-scale vaccination centres in Norfolk and Waveney as a walk-in to receive a dose of the COVID-19 vaccine instead of having to pre-book an appointment.
Appointments can also be booked quickly and conveniently on the NHS website and people that can't go online can book by phoning 119. Local NHS teams are also offering walk in appointments and people are being urged to check availability on the local walk-in finder.
Rebecca Crossley, Senior Programme Manager Neuro Development Disorder, NHS Norfolk & Waveney Clinical Commissioning Group said:
"It is really important that children are vaccinated and are protected. Our accessibility clinics have been working really well with children who are nervous about having theirs.
"Our main priority is to help and alleviate any worries that children may have by giving them as much time as they need.
"It is great to see that so many people have already had their vaccinations, and many continue to take up the offer to get protected.
"We cannot recommend enough the importance of everyone, regardless of your age, in having their vaccination to protect themselves, their family, and the local community.
"Any parents or carers that are considering whether to vaccinate their child can review the medical information that has been compiled by the NHS to support families to make the decision. There's a range of information and resources on our website, including leaflets and videos that explain the process, how to prepare your child for the vaccine, and what to expect afterwards."
Local parent Sandra, who attended the recent session with her daughter Lydia was delighted that such great efforts were made to ensure that they were both kept at ease. She said:
"Coming here has been a relaxing experience for me and my daughter. I am really happy and so is Lydia."
There are dedicated resources to support parents and carers with COVID-19 vaccination are available on the NHS Norfolk and Waveney CCG website.
In addition, anyone that needs to get a first, second, or booster dose can visit the vaccination bus and pop-up clinics that are taking place over the next week. Please note this does not include the Spring Booster for those aged 75+ and the immunosuppressed, as these must be administered via pre-booked appointment. Spring Booster appointments can be booked online via the National Booking Service or by calling 119.
Regular hand washing, wearing a face covering, using sanitiser stations and avoiding crowded spaces are all basic steps of infection prevention and control that we can all take to help stop the spread of germs and viruses.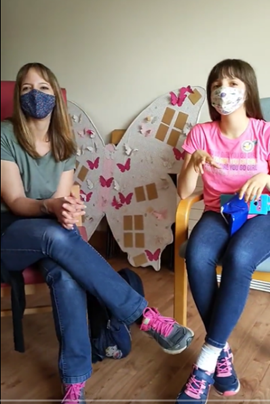 Ends