Get vaccinated at St Georges Theatre – this Friday
Norfolk and Waveney health and care colleagues are encouraging those who haven't yet had their COVID-19 vaccination to come forward to a pop-up clinic this Friday.
Vaccinations for those who live within the Great Yarmouth area can attend a pop-up clinic at St Georges Plaza, King St, Great Yarmouth NR30 2PG, 12 noon until 18:00.
Vaccines remain our best defence against serious illness and hospitalisation from COVID-19. Research has shown the vaccines help:
reduce your risk of getting seriously ill or dying from COVID-19

reduce your risk of catching or spreading COVID-19

protect against COVID-19 variants
If preferred, appointments can also be booked quickly and conveniently on the NHS website and people that can't go online can book by phoning 119. Local NHS teams are also offering walk in appointments and people are being urged to check availability on the local walk-in finder.
Kate Keeling, Head of Immunisations & Health Inequalities, NHS Norfolk and Waveney Clinical Commissioning Group said:
"We are really pleased that so many people in Norfolk and Waveney have had their COVID-19 vaccination.
"For those who have yet to have their COVID-19 vaccination, we have made it even easier for you to attend one of our sites. Our pop-up clinics mean that you don't need to book, you just turn up.
"We cannot recommend enough the importance of everyone, regardless of your age, in having their vaccination to protect themselves, their family, and the local community."
Cllr Emma Flaxman-Taylor – Chair of the Housing and Neighbourhoods Committee at Great Yarmouth Borough Council said:
"GYBC is working alongside the NHS and St Georges Theatre to support anyone who needs there first, second or booster covid-19 Vaccination.
"This is a great way for everyone to get Vaccinated Safely and the best way to protect ourselves and our community"
Meanwhile the Jab Cab remains available to take anyone to a vaccination centre, pop-up clinic, or walk-in site in Norfolk and Waveney to receive any COVID-19 vaccine. Find out more about how to book the Jab Cab at https://www.norfolkandwaveneyccg.nhs.uk/jabcab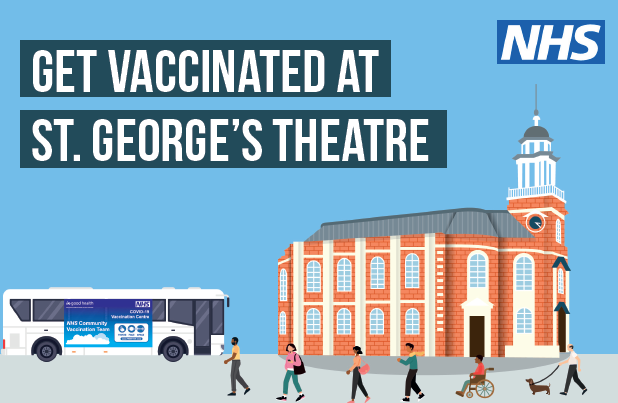 Notes
The pop-up clinic is at St Georges Plaza, King St, Great Yarmouth NR30 2PG on the following days:

Friday 20th May 12:00 – 18:00

Friday 27th May 12:00 – 18:00

Friday 10th June 12:00 – 18:00